Our 9 piece kit includes bolts manufactured from extremely durable, anticorrosive, and lightweight GR5 titanium metal.  The kit is designed for the FA24D found in the second generation BRZ and GR86.

The kit replaces the hardware circled in the diagram below. Locations include:
Fuel rail covers on the passenger and driver side of the engine. 
NOTE: We recommend unbolting the ECU from the support bracket to reach some locations on the passenger side easier.
*Developed using a 2022 Toyota GR86.
Additionally, we use coloring processes that hold up better against environmental elements than traditional anodizing. Available colors: Red, True Burned, Blue, Purple, Polished, Gold, and Black. The kit also comes with instructions that show you where each piece of hardware goes making installation quick and easy.
Say Goodbye To Rust Forever!
Our titanium hardware kits are designed for people that are tired of dealing with rusty hardware in their vehicle or want to avoid future frustration when their hardware does start to rust.
Our bolts, nuts, and washers are made from Grade 5 titanium so you can rest easy knowing this kit is guaranteed to stay strong and look great for years to come.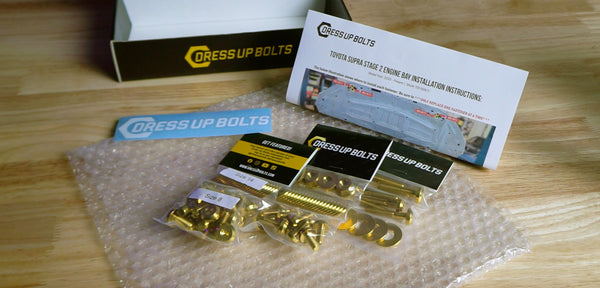 What's In The Box?
Our hardware kits come with detailed instructions that include a diagram highlighting where each piece of hardware goes on your vehicle. The hardware included in the kit is separated by size and each size is labeled to reference the diagram on the instructions.
And of course, no car part purchase would be complete without a decal! That is why we include one with every order.
Product title
$19.99 USD | $24.99 USD
Product title
$19.99 USD | $24.99 USD
Product title
$19.99 USD | $24.99 USD
Product title
$19.99 USD | $24.99 USD