Dress Up Bolts Titanium Hardware kit for the 1JZ-GTE and 2JZ-GTE Valve Covers looks great and delivers a durable replacement option to prevent bolt/nut failure and ugly rust/corrosion.
This kit includes 8 titanium hardware pieces to replace the visible bolts on the outside of the covers. This kit works with Non-VVTi and VVTi valve covers.  The entire kit only weighs 39g!
This kit is available in seven color options: True Burned, Red, Gold, Blue, Purple, Polished, & Black.
NOTE: This kit is designed to only replace the visible valve cover hardware.  If you want to replace the valve cover hardware covered by the coil pack cover you will need to order two kits.
Dress Up Bolts Titanium hardware is made of Ti 6AI-4V (Grade 5) and incorporates a hex key design that allows our bolts to be easily installed using an Allen wrench.
Titanium is ~45% lighter, stronger, and will not corrode like your stock OEM hardware!
Check out the location diagram to see which hardware pieces this kit replaces in the engine bay.
Please email us if you have any questions about the kit.  Sales@dressupbolts.com
Say Goodbye To Rust Forever!
Our titanium hardware kits are designed for people that are tired of dealing with rusty hardware in their vehicle or want to avoid future frustration when their hardware does start to rust.
Our bolts, nuts, and washers are made from Grade 5 titanium so you can rest easy knowing this kit is guaranteed to stay strong and look great for years to come.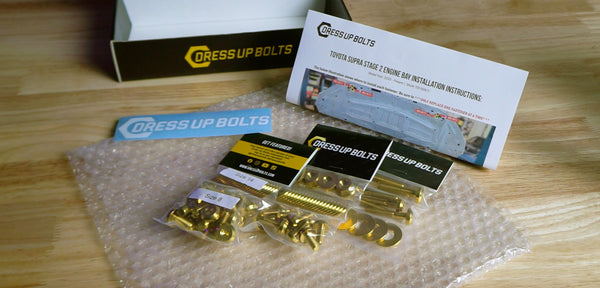 What's In The Box?
Our hardware kits come with detailed instructions that include a diagram highlighting where each piece of hardware goes on your vehicle. The hardware included in the kit is separated by size and each size is labeled to reference the diagram on the instructions.
And of course, no car part purchase would be complete without a decal! That is why we include one with every order.
Product title
$19.99 USD | $24.99 USD
Product title
$19.99 USD | $24.99 USD
Product title
$19.99 USD | $24.99 USD
Product title
$19.99 USD | $24.99 USD
Customer Reviews
100
reviewers would recommend this product
Write a Review
I recommend this product
Great
Awesome product, no issues
08/03/2022
Adrijan H.

United States
I recommend this product
Great Product
Fast Delivery. Good Cost & Love The Look